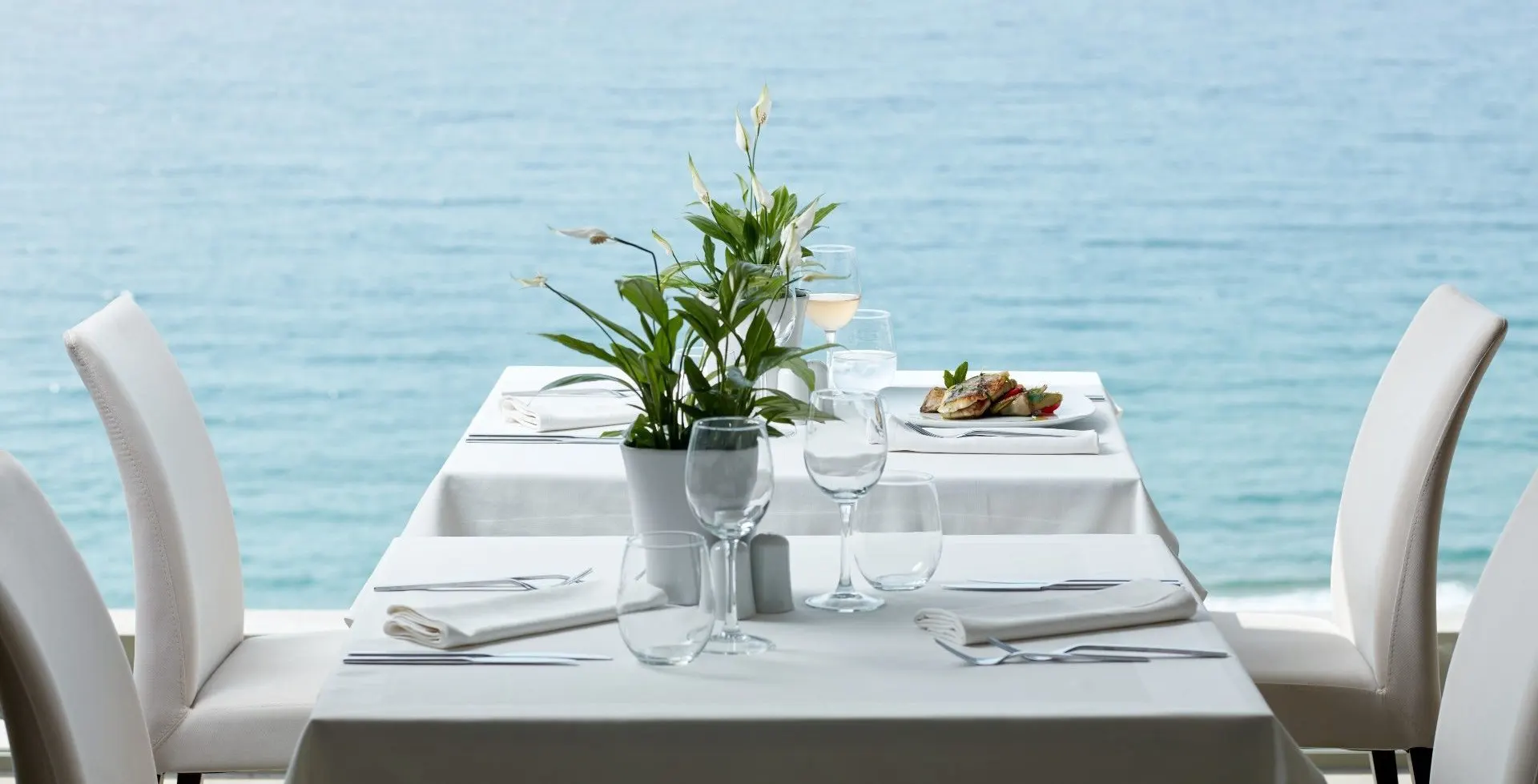 5 best places to dine-in Corfu's north east coast
Best
taverna
restaurant
place
to be for dinner
Let's be honest: Corfu restaurants are among the best restaurants in Greece!
And you bet there are many reasons why! Fresh local ingredients, a huge variety of flavors and very skilled chefs, create some of the most luscious dishes you've ever tasted.
Believe us, there's no way you will taste the traditional Corfiot dishes and won't instantly fall in love with Corfiot cuisine. Let alone the delicious food, Corfu restaurants upgrade your culinary experience with their unique style and imaginative taste combinations!
But, what are the best restaurant in North East Coast of Corfu you should definitely visit?
Let's see together, what are the top places to eat, in our lovely area.
1. Toula's
Established in early 80's. Back then, it was a simple seafront taverna frequented by locals who arrived by boat and often overnighted on the beach. 
Today One of the best restaurants in Greece! Awarded for this for the last 10 years.
Unique experience, both gastronomic and atmospheric.
Professional conduct and service to be rewarded accordingly.
Definitely the expensive restaurants are the ones that provide gastronomic experiences.
Famous dishes of the restaurant are the lobster linguini while spicy shrimp are legendary.
Really on the beach, an idyllic atmosphere chosen by world famous stars and personalities, politicians, actors. Among the guests you can meet Valentino, Armani, Tom Hanks, the model Kate Moss and the British royal family.
You will not be disappointed and the experience is worth a visit for dinner as everything looks magical under the starlight on the beach
Contact: +30 26630 91350; toulasagni.com
Opening times: May-Sept, daily, 1pm-10.45pm, but closed 5pm-7pm from mid-July through August (exact dates may vary)
Reservations: Mandatory
Prices: £££
Best table: Any table beside the beach
Visit website
2. The White House Restaurant
The White House Restaurant quite literally sits on the water's edge overlooking Kalami Bay on the north east coast of Corfu. It is the lower ground level of the world famous White House, the Corfu residence of author, Lawrence Durrell.
Imagine yourself basking in the sunlight, listening to the Ionian Sea splashing at your feat whilst you awaken your sense of taste to our fresh seafood delicacies and white local wine.
Focused on tradition, quality and exquisite flavors, it serves seafood as well as Mediterranean dishes. You will enjoy local wine, fish and seafood fished daily by the restaurant's fishing boats and traditional Greek and Corfiot recipes. The products used are fresh and local so the menu is often updated depending on the season.
On the White House Restaurant menu there are even some Durrells favorite dishes that have remained even more associated today with the rich history of the place.
Contact:
 +30 26630 91040; 
thewhitehouserestaurant.gr
Opening times:
May - October 12:00 - 16:00 & 18:00 - 23:00
Reservations:
 Essential
Prices:
 ££
Best table:
 Any table on the water's edge
Visit website
3. Taverna Kouloura
The Kouloura family tavern, having taken its name by the (Kouloura) cove at the northeast of Corfu stands out right there since 1958, taking its guests along on a culinary journey of authentic greek and corfiot cuisine.
Initially, it used to function as a coffee shop, tavern, grocery store, occasionally an inn, and mainly as a meeting place for local fishermen, residents and traders who gathered here daily for their transactions.

Over the years and with the arrival of the first visitors to the area, the tavern is being modernized and gradually it acquires its present form. Always in perfect harmony with the surroundings and without ever losing its identity, it still remains to this day a small traditional corfiot tavern that can win the visitor's heart over the first bite!

Unique visit experience! Kouloura will also win as future visitors. A safe starting point for short getaways to small secluded beaches.
Contact: +30 26630 91253; tavernakouloura.com
Opening times: May-Oct, daily, Breakfast: 9am – 11.45am /Lunch, Brunch, Dinner: 11am – 8pm.
Reservations: Essential
Prices: ££
Best table: Any table on the edge just above the dock
Visit website
4. Taverna Kerasia
Taverna Kerasia sits directly on the beach, offering its guests one of the best natural spectacles on Corfu Island. From here you can marvel at every shade of Ionian Blue, across the Straits of Corfu all the way south to Corfu Town.
Plenty of natural shade and a spacious layout make Taverna Kerasia the ideal leisurely summer-lifestyle eating spot.
Eat and drink while the kids play on the beach, nip into the sparkling waters before settling back into your chair for desert or a Greek cup of coffee.
Traditional food made with tender loving care.
Anything on the menu is good because it is fresh and it is made with love.
Taverna Kerasia is run by the Garnelis family and the food is prepared by us too. They serve fresh seafood and other delicious "mezedes" for lunch and dinner. They also have a selective wine list with good local wine as well as more sophisticated Greek wines available.
If you are wanting something for a special occasion, they can prepare custom made menus for weddings and other celebrations.
Contact:
 +30 26630 81521; 
tavernakerasia.com/
Opening times:
May - October 11:00 - 23:00
Reservations:
 Essential
Prices:
 ££
Best table:
 Any table by the beach
Visit website
5. Eucalyptus Taverna
The seaside taverna Eucalyptus is located in the highly-sought area of San Stefano on the northeast of Corfu.
In this area many luxurious villas have been recently constructed, offering the greatest accommodation opportunities for visitors, while it provides tourists with lots of amenities, such as restaurants, like Eucalyptus taverna, that offers fresh fish and traditional, Corfiot recipes.
The seaside taverna Eucalyptus is located within the traditional olive press of the Petropoulos family. In the past, the oil that was produced there was transferred with a small fishing boat in order to be sold in the market of Corfu town.
This place operates as a taverna since 1983, offering customers traditional recipes from past generations that are being prepared with gardening products, cultivated by local producers.
Also, it is notable that some more creative and innovative dishes of the greek cuisine are offered, with emphasis on seafood and fresh fish. All these amazing dishes are served with the most exquisite wines through our extended wine list, produced in greek and foreign vineyards.
Contact: +30 26630 82007; eucalyptustaverna.com/
Opening times: Open for lunch and dinner 11:00am - till late
Reservations: Essential
Prices: ££
Best table: Any of the tables by the beach
Visit website
Bon appetit!
Among the many and excellent options that exist in the area. We at Villa Vigla have selected the five best places to suggest for lunch or dinner. We are sure that if you pay the necessary attention, you will surely find more than one option.
---